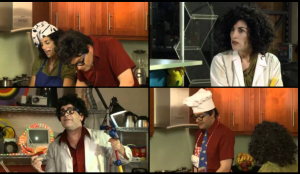 Real life Grammar VIDEO presentations
Click HERE for Grammar Genius Videos
Hamilton House Publishers are pleased to announce the launch of a brand new series of 'Real life video presentations' for presenting grammar in the classroom. Our aim when developing this unique new video tool was to identify how students could learn grammar in a fun and exciting way. Careful selection of actors and scripts for the video clips ensure that students feel motivated and entertained while they are learning crucial grammar points.
By using the Real life video presentations, you will achieve the following:
• A new, exciting and innovative way to attract your students' attention
• Presentation of grammar rules in a stimulating format enabling students to pick up grammar points more quickly
• Creation of conversation topics around specific grammar rules
These Real life video presentations have been created to accompany all senior grammar courses, including the Grammar Genius series.
Present them in the classroom in thefollowing way:
• You can log on to our site and download all the video presentations in HD format.
• After you have downloaded the videos, you can use them in the classroom to revise the particular grammar point that your students have just been taught. Your students will be entertained by these entertaining and interesting video clips.
Every Real life video presentation shows the grammar rule which is going to be taught at the beginning of each clip.
Show more
none